Contact
Pfaffenwaldring 5a
70569 Stuttgart
Deutschland
Room: PWR 5a, R2.009
Office Hours
On appointment
Subject
Linear matrix inequalities in control
Exploring the applicability of linear matrix inequalities in analysis and synthesis problems in control.
Robust control
Analysis and synthesis techniques for linear, linear parametrically varying and nonlinear systems.
Multiobjective control
Control problems with multiple objectives formulated in the frequency- and time-domain.
Semi-definite programming and convex optimization
Robust optimization and relaxations of non-convex optimization problems.
Applications
Mechatronics and flight-control.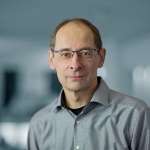 Carsten W. Scherer
Professor Dr.
Head of Institute and Chairholder mst / Erasmus-Coordinator Dep. of Mathematics